Available for: Windows
The game does not work anymore
I recommended to see another game Adult World 3D

3Dsex is definitely one of the greatest and most popular MMO games on the net uniting millions of cybersex fans all over the world. Why is it so popular? What makes people join this online sex community and spend days and nights in a virtual world having fun, dancing, interacting with other real people from different countries and continents and having hot virtual sex? Here I`m just trying to talk about my own experience in 3Dsex and reveal all secrets of the game to let you know how it all works and what you can expect inside this life-like world.
3Dsex is a virtual world consisting of 4 main playgrounds called Main Resort, Swingers Resort, Fetish Resort and Gay Resort. These`re in fact 4 tropical islands full of bars, night clubs, swimming pools, luxurious hotels, nice sandy beaches, strip bars, sex shops and many other places oriented to satisfy your sexual desires and fantasies. To become a 3Dsex member you just download the application from the game website and find yourself in the Main Resort. This is your first step into the most amazing virtual world. Here you can create and customize your profile and then learn how to operate your avatar. Creating your profile means you have to choose your appearance and clothes. Now your avatar can walk around the selected areas, have fun and interact with other people of the community. You can still spend your time in the Main Resort which is in fact the most popular place in 3Dsex. Here you can meet new friends, talk with them, have fun in bars and nightclubs and of course have 3D virtual sex. The game helps you realize your most insane sex fantasies you can`t get in your real life. You make sex with your virtual lovers but always have in mind there`re real people behind the avatars – you`ll never experience anything more exciting and teasing feeling your sex partner isn`t just a digital 3D character but somebody having mind and soul.
This original combination of virtual and personalization is the main difference between 3Dsex and many other 3D adult games on the Internet like 3DSexVilla or Adult World 3D. This is in fact one of the basic reasons why 3Dsex is so popular worldwide. People like living the life of their imaginary characters, meeting people and then realizing their most hidden sex fantasies with other people behind their avatars. 3Dsex gives them a chance to experience the world they`ll never find in their real everyday life.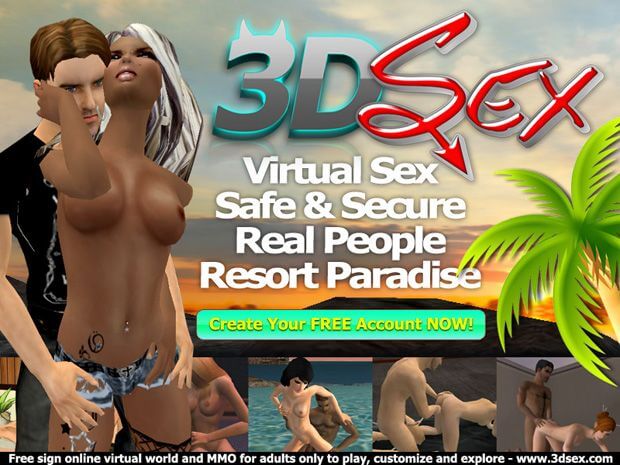 Now just some words about the other playgrounds. The Fetish Resort is for all those looking for some crazy sex adventures in dungeons or craving for fetish sex experiences. Everything is possible here from whipping to bondage sex. Then the Swingers Resort which is specially designed for those couples looking for something hotter. And finally the Gay Resort for those keen on wild gay sex with other gays from all over the world. The surroundings are everywhere more or less the same – bars, dance clubs, nightclubs, beaches etc.
3D virtual sex is what all game users are looking for. You meet people, chat with them, have fun and then have sex. The gaming controls offer a great number of functions for users` virtual sexual intercourses. You can choose and change the positions, slow down or speed up the pace and control the excitement level. Playing 3Dsex you don`t only express your alter ego but also realize your craziest sex fantasies you can`t find in your real life. The atmosphere of the tropical paradise and carefree life helps a lot feel relaxed and more susceptible to various sex adventures.
To make your sex adventures in 3Dsex more amazing, the game offers a good number of various business options. I mean you can buy and sell clothes or sex toys, rent apartments and even generate your own content for sale. The Clam is a 3Dsex currency and all transactions should be made in clams. But if you want you can exchange the clams into real money. To this point the game offers almost unlimited opportunities not only in virtual sex but also in business activity. 3Dsex is a free game but customizing your profile and then living inside the game will require some cash if you want to try everything.
3Dsex is a high-resolution online game. The quality of graphics and sound is perfect everywhere allowing all users to enjoy their virtual sex adventures. All the scenes and places are life-like giving the impression you`re on a real tropical island and surrounded by real people. 3D virtual sex inside the game is of the highest quality I`ve ever seen so far. Everything is very realistic and you can enjoy the scenes from all possible angles.
The game is a nice place not only for virtual sex lovers but also for all those looking for new exciting experience in one of the biggest sex communities on the Internet. As a 3Dsex member you`ll be able to meet hundreds and thousands of people from all over the world, communicate with your virtual friends and go through the wildest and most fantastic sex adventures you can just imagine.