Available for: Windows, Mac OS
Affect3D has just released another 3DX masterpiece Girlfriends4Ever for all amateurs of futa porn games. All their previous gaming products by MIRO were a big success among 3DX players worldwide. You must remember Tara`s Assignments and Ayako Sex Addiction issued in 2013 and showing a new world of erotica and porn in 3D. All lovers of 3DX porn got crazy of their amazing XXX themes and then waited for next releases, even hotter and more provocative. Girlfriends4Ever has just appeared on sale on Affect3D.com and here`re a few words about what you can expect inside. By the way you can get the whole Affect3D collection 2013 as one pack now for more than a moderate price of $39,95.
Girlfriends 4 Ever video trailer
The story is about a sexy platinum blonde Tara and hot busty brunette Sayako. The girls fall in love with each other and soon become girlfriends. At first Tara looks shy and feels a bit confused about making sex with a girl. If she only knew about another surprise waiting for her during their first girl-on-girl intercourse! Finally playful Sayako seduces sweet Tara and the girls kiss and lick each other getting hotter as never. Kissing her girlfriend and gently caressing her hard nipples Tara lifts up her eyes and almost freezes in astonishment watching a huge erected cock  slightly bouncing between Sayako`s spread legs. It`s about 15 inches in length and looks so delicious Tara can`t remove her eyes of this massive schlong. The girls can`t control themselves anymore and seduced Tara allows her dickgirlfriend to drill and grind all her holes. This is how Girlfriends4Ever begins and that`s up to you now how these fiery babes will fuck and pound each other.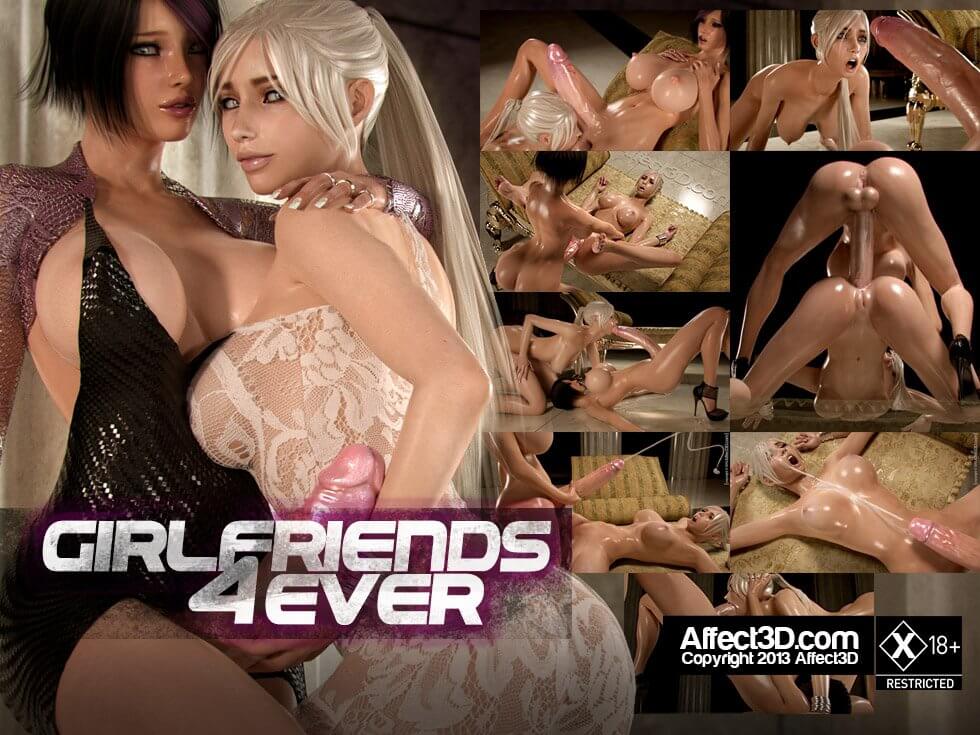 The interactive gaming menu on the screen allows full control of the whole process from selecting girls` outfits and accessories to rotating the virtual cam and watching the scenes from every impossible angle. It looks like you make your own porn movie in 3DX and can realize your wildest sex fantasies. Besides designing characters` look and choosing the best angles for your cam you`ll have a number of other gaming options to control their fucking process. First of all you can select the scene you want to watch and record: missionary sex, anal, cow-girl, blowjob and even some fetish themes like hand-stand sex or overhead blowjob. If you like you can switch on the positions making the girls fulfill all your wishes and do everything you want. Using the same menu on the screen and the mouse you can also slow down or speed up the girls` movements as they suck and fuck each other. Controlling the fucking process don`t forget about the 360° rotation giving you fantastic opportunity to admire the scenes from all possible angles with most mind-blowing close-ups. Besides girl-on-girl scenes you can select solo erotica and enjoy Tara and Sayako posing naked or masturbating. Of course you can control the pace and see the scenes from all sides.
Now some words about these sexy beauties. According to the law of the 3DX niche both girls look life-like but at the same time their sexuality and appeal are highly hyperbolic. Very beautiful and lovely faces, perfect shapes and outstanding sex skills. Both Tara and Sayako are athletic looking with super long legs, appetizing butts and huge delicious breasts. Just ideal picture of beauty and sexuality! To make your stay on Girlfriends4Ever even more exciting Sayako is a dickgirl. Even if you aren't really into shemale niche you`ll like these fabulous sex games and wild XXX fantasies these hot babes show.
Girlfriends4Ever wouldn`t be so nice and amazing without exceptional quality. Graphics and sound are just perfect allowing the users to enjoy every inch of Tara`s sumptuous body or Sayako`s huge veiny cock. You can even enjoy the scenes in the X-Ray mode or 3D vision. The same goes for the sound. You`ll enjoy girls` moans, Sayako`s fat cock slurping into Tara`s wet pussy and all other sounds related to sexual intercourses. Perfect quality of Girlfriends4Ever sound and graphics makes it very realistic and helps realize your most insane sex fantasies. This original combination of 3D porn and ability to operate the characters is what tens of thousands of amateurs worldwide like. Here I must say that perfect quality of Girlfriends4Ever also includes easy navigation and very user-friendly interface. No need to spend time on looking into the controls of the game. You can do everything just by clicking the appropriate buttons on the screen.
In conclusion of my review I`d like to say that Girlfriends4Ever is a nice way to escape from the real world and fall into an amazing world of the craziest sex fantasies ever. There`s everything inside to make your imagination explode of the naughtiest wishes watching Tara and Sayako`s games.