Available for: Windows, Mac OS
RedLightCenter, one of the most popular multiplayer porn game on the net, is up in our review today. RLC isn`t in fact a usual adult 3D game but a real virtual world with over 3 million users from all over the world. This huge interactive playground is for all those keen on carefree virtual life and crazy online adventures. Unlike hundreds of other adult 3D games on the net, RLC offers a pretty new conception of the playing process. The core is a virtual adult community called the Utherverse which looks like De Wallen, the famous Red-light district in Amsterdam. Everything inside this virtual world is sex-oriented from strip clubs, brothels and bars to various adult communities. Anyone who has access to the Internet can become a member of RLC and explore this amazing virtual world of pleasure and delights. Signing-up is free; all you have to do to join the playground is to download the RLC application on the site. After registration you get to the welcome center where you customize with all the options and navigation features and then create your profile or avatar. Well, you`re completely ready to explore the Utherverse now.
Besides original multi-player conception, RLC is also one of the most high-quality 3D multiplayer porn games I`ve seen so far. All video and audio features allow the users to play and realize their most hidden sexual fantasies in a highly realistic manner. Exceptional graphics and perfect sound everywhere help create the atmosphere of immediate presence inside the game. It`s very important for interactive adult games and RLC seems to work hard on this.
Now some more words about RLC original interactive idea. As I told above, more than 3 million people live in the Utherverse. These are all real people operating their avatars in this amazing virtual world. The anonymity of their alter ego makes them more friendly, carefree and willing to realize their craziest and most insane sexual desires. Hundreds of bars, nightclubs, adult theaters, sex shops and strip bars are open 24 hours a day, 7 days a week allowing people (or their avatars) of all nationalities, shapes and ages to meet, keep in touch, talk, dance, have fun and of course make kinky virtual sex with each other. A very user-friendly menu on the screen and navigation options help create your profile, operate the avatar and go through the hottest sex adventures you can just imagine. There`re various sex communities inside RLC like BDSM community, swingers, gay district and many other options for all sexual orientations and tastes.

Red Light Center has its own virtual currency – the ray. Real money can be easily converted into rays if you want to have something more than standard features or look for some special entertainments. You can buy a drink to the girl you like, the gift to your lover or invest the money in any business. Business activity is in fact one of the latest updates in RLC. You can own a sex shop, sell adult content or realize your ambitions in advertising. Very promising option for all those keen on sex-oriented business.
Another great thing about RLC is you can now have your own virtual residence. It can be a modest comfortable flat, remote cottage or luxurious villa where you can invite your new friends for some lively virtual sex parties. This feature called Zaby has been added recently but thousands of RLC residents now have their own housing. Creating a flat or house is very easy and user-friendly.

The RLC team is working nonstop to make the Utherverse even more realistic and interactive. Updates come on a regular basis giving all users more features, navigation options, places to visit and of course sexual experiences. By the way, navigation across the site is very easy allowing you to feel as in your own city.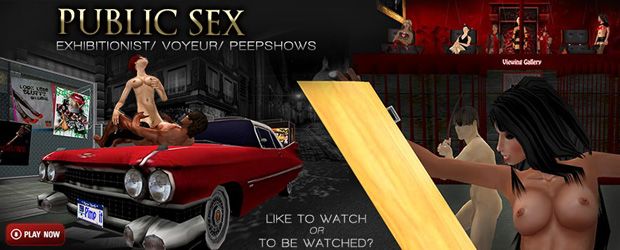 RLC is now one of the 3D adult games with continuously growing audience. The welcome center accepts new users nonstop making the Utherverse one of the largest virtual worlds on the Internet. New people bring more bold ideas, create new sex communities and start original sex-oriented businesses. It looks like you get into the ideal world where you can join people sharing your sexual tastes and realize your most secret and unreal sex fantasies you`ll never experience in your real life. This nice opportunity of traveling to a parallel world and living the virtual life which is almost inaccessible in the real world attracts thousands of new users from all corners of the world. From the technical point of view navigation and all controls in RLC are very simple and user friendly. Even those users who never played any adult MMO games will quickly get used to all customizations and menu options.
Living in a virtual world, interacting with your virtual friends, neighbors, girlfriends or boyfriends, joining various sex communities, having fun in bars or strip clubs, buying sex accessories and toys in sex shops are what you`ll find inside RLC.